As you know, I have 1/3 of my portfolio in SLV (silver ETF). The reason is, silver is still in a bull market, which means it needs to surpass old highs (surpass $50.20 an ounce). I thought silver should resume it's ascension in couple of months. However, two things came to mind today that now makes me think silver might take a year or so to continue it's ascension.
Here's something I saw from Pragmatic Capitalist.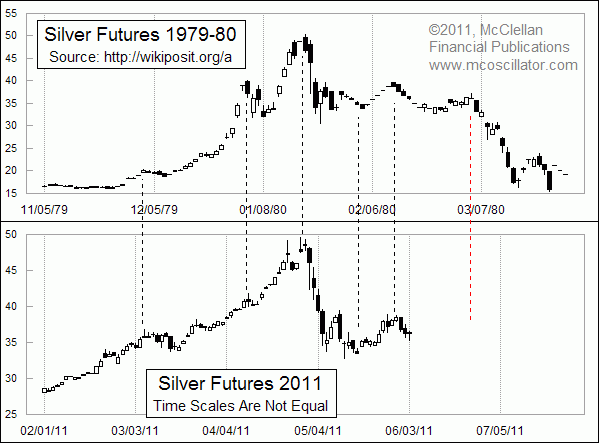 As you can see, silver is retracing what happened in 1980. However, the difference is 1980 was the end of the silver bull, while today isn't.
Also, I remember someone saying that commodities in general this year (or by the end of this year) could decrease (a cyclical bear market). Two reasons (fundamentals). Demand from China is slowing, as this has been confirmed by a lot of business friends in China. Also, the weather this year is a lot better than last year. The world's major breadbasket is North America, and we are currently getting very good weather in Canada and the U.S. (lots of rain, lots of sunshine). These two fundamentals will cause food commodities prices to decrease. Since commodities all move in the same trend, silver might just fall.
So what am I going to do about this? Sold 1000 SLV at $35.34. I took a small loss on this.